Initial Release Date: 10/24/02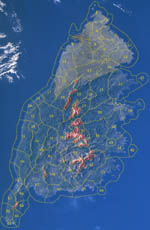 Description: Shattered State offered a refreshing alternative to the plethora of last-man-standing ladders so common in the FPS genre. It extended Ghost Recon to include a turn-based strategy game where opposing factions could battle for control of the fictional island of Isla de Guerra via an altered Siege game mode. For a more detailed description please read the synopsis.
Duredhel's Notes: This was basically a two-person effort with my focus being anything related to the Ghost Recon modpack, art assets, as well as sharing the responsibility of developing the League Rules. The true developer and all-around web guru, Morchaint, is the owner of Clanhaven.com and managed all of the web development required to make the game a reality. We met while playing multiplayer GR over the summer of 2002 and I was more than a little impressed at his vision for extending the player/team experience.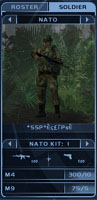 Shattered State would offer teams an automated means of managing their virtual resources, planning attacks, establishing alliances, and reporting match outcomes. To facilitate the inner-workings of the web-based Tactical Interface each player would be required to run a modpack specifically designed for Shattered State. Working like two possessed madmen we had the first version of Shattered State operational within six weeks. The interest from the GR fan community was overwhelming and we ultimately had to turn teams away from the very first league due to the shear number of responses.
Current Status: The release of the third installment in the Rainbow Six series in early 2003 marked a drastic decrease in interest for Ghost Recon. It was decided that a rewrite of the ClanHaven game engine was in order to help streamline the rapid adoption of future titles and Shattered State was permanently retired from service. ClanHaven.com is currently undergoing a huge facelift and Morchaint will hopefully have it up and running very soon. Maybe in time for Ghost Recon 2? *hint hint*
For those interested in seeing some of the assets from the game, or wish to take the modpack out for a spin they are available below...
Shattered State modpack v1.2 (10MB EXE)
Shattered State League Rules v3 (277KB PDF)